Sometimes God looks down from his lofty perch to smile upon me at the times I need it most. Like right now, for instance.
I've told you all that
my husband broke my beautiful washer
.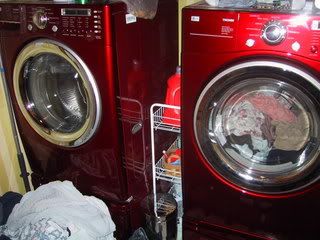 Gorgeous, ain't she?
Well, what I didn't mention is that the repairman who came to fix her said she would require a new drum and some other parts, which would have to be ordered. Then, when they came in, it would require the services of two of them for at least four hours to do an entire tear-down of the machine. That was a week and a half ago.
I got a call this morning that the parts are finally in. A caustic-toned biddy informed me of that news for which I should be exuberently grateful, apparently. After having gone without a washer for the past two weeks, and been saved numerous trips to the laundromat only out of the kindness of
Lovey's
heart and the use of her laundering services(and I also have to give props to
Dapo
for offering), I was in no mood to deal with that receptionist wench.
"When's the soonest you can have someone out?" I asked.
"Two men? November 2nd."
November 2nd?!! That will make three weeks, people!
Now, at this point, my husband is suffering the worst sorts of revenge torture fantasies in my mind that you can imagine. You don't even want to know how twisted my imagination can be when it comes to me having my retribution for this egregious insult.
So, I go to mark it on my calendar, and what should catch my eye?
Friday, October 26th, 9:30 a.m.--my husband's vasectomy appointment.
God does love me.