Allow me to introduce you to the twins...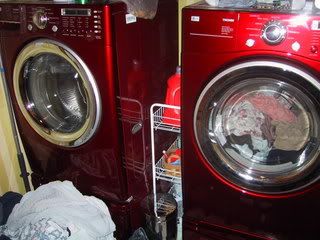 I've affectionately dubbed them "$3000 of love" because I told my husband if he loved me, he would buy them for me. And coincidentally, his love for me has an approximate cash value of $3150, so I had enough left over to get some new shoes, too!
Yes, I gots me a good man, ladies. Keep your grubby mitts off!
So, what does this have to do with being a racist? Well, I'm getting to that.
See, twin #1--we'll call her "Washer"--isn't quite feeling like herself lately. She's shaky and loud, and now she's got an internal injury. Yes, somehow the drum of the washer got a dent from striking one of the components outside. There's quite a noticeable bump in the metal.
As a concerned and caring owner, I promptly called the manufacturer, who shall remain nameless.

Now, I'm not a marketing genius, but I'm clever enough to deduce that when someone calls the manufacturer, it is probably not for the purposes of congratulating them on their fine craftsmanship or exceptional engineering. No, when one calls the manufacturer, it is to tell them what lousy pieces of crap they had the gall to inflict upon the innocent denizens of the planet Earth (even if those denizens had spent the past 6 months singing the manufacturer's praises and encouraging anyone who would listen to throw their hard-earned money at them in return for products which were finely crafted and exceptionally engineered.)
I was placing the bad kind of call, so the last thing I wanted to hear was a chipper recording telling me, "Life's good."
Shut up! Life's not good! My washer's broken!
I don't think the recording heard me because she continued to spout off extensions.
"If you are calling about a delivery, press one. If you're calling about an existing order, press two...
...If you're calling about a refrigerator, press 95. If you're calling about a washer, press 96. If you're..."
Nine six.
"Thank you. A customer service representative will be with you shortly."
Muzak.
"Hello, my name is Don. How can I help you today?"
Indian call center. I immediately tense up. I have not had good luck with Indian call centers in the past.
"Uh, yeah, my washer's broken. I need someone to come out and fix it."
"Don" asks for the model number, the serial number, date of purchase, mother's maiden name, square root of pi--all the relevant information. I give it. (Aren't you impressed that I know the sqaure root of pi?)
"Thank you. Now may you tell me what is the problem?"
"Yeah. My husband put a load of clothes in the washer, and it started shaking and making loud noises, like clanging. So, we stopped it and took the clothes out, and we found a big dent in the drum. It was dented in, so it must have struck something inside the washer."
"The drum is dented?"
"Yes."
"What did your husband put in the washer?"
"Uh, clothes."
"What was in the washer with the clothes?"
"Uh, soap? Water?"
"What other object was in the washer?"
"There was no other object. He put in clothes. Jeans, tee shirts. Maybe some socks. Just clothes."
"Ma'am, clothes would not dent the drum."
"Yeah, I know. That's why I'm calling. It was dented from the outside, not from the inside."
"Hold one moment please."
Ugh! He's not getting it. "Don" and I are not on the same page.
Waiting. Waiting. Fifteen minutes go by. You could steam vegetables on my head.
"Ma'am?"
God, how I hate being called that!
"Yes?"
"Ma'am, there's nothing we can do for you."
"I don't think you understand. The drum was dented IN. Dented IN!" As though yelling it will help him understand me any better. "Not out. IN!"
"Yes. As I told you, there's nothing I can do for you."
"Nothing you can do for me? It's under warranty! We bought the extended warranty! We own you for the next FOUR YEARS!!" Okay, I didn't say the last thing, but I was thinking it.
"Ma'am, the warranty does not cover owner negligence."
Oh, my friend, it's on now!
What followed were words I thought I would never say:
"I want to talk to someone who SPEAKS ENGLISH!!"
By now, I'm sure "Don" had already written me off as a psycho nut job, so he gladly relinquished my call to his manager "Dave", who spoke flawless English and was extremely helpful. The repair was scheduled and I was satisfied that it was, in fact, covered under warranty.
But I still felt bad for the way I had spoken to "Don". It is so not like me to lash out at anyone, sarcastic jabs aside. And especially not for something as trivial as a misunderstanding. If I'd just asked for his manager before I lost my cool, the whole thing could have been avoided.
So, what do you think? Was I justified? Or am I a blight on polite society, destined to live a life of shame and isolation?