I should have known this would happen. After all, I spent my whole weekend on the computer, starting this blog and organizing my files. It stands to reason, the day I actually plan to accomplish something that doesn't involve sitting on my ass and pretending to be someone cooler than I am, fate would have something else in mind. And if a sick four-year-old ain't enough to put a kink in the best laid plans, I don't know what is.
Meet Mr. Sicky: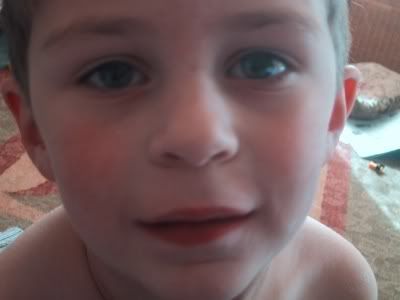 Some of you might know him as the Squirrel Kicker. To the others...well, yes, he kicked a squirrel. But it was one squirrel. Get over it.
What? Like you've never kicked a squirrel before?
Anyhow, my point was that I won't be getting anything done today. And how that is different than any other day, I couldn't tell you. Except maybe today I have an excuse. He's sick. He needs me.
I should've just stayed in bed.
(Look, he didn't hurt the squirrel. Just let it go. Or click
here
for the whole story.)