Thanks, everyone, for all the well-wishes for my hubby's goods. He's doing just fine--resting right now in bed with the requisite bag of frozen peas on his crotch. What a trooper!
I told you I would post about the procedure. Well, there's really not much to say about that. He was in and out in about 20 minutes, walked out of it without even a limp. With all the whining he'd done beforehand, he was surprisingly spry and chipper on the walk back to the car. Of course, he was hopped up on Valium and Diet Coke Plus. (They put crack in that, you know. That's what the "Plus" is.)
But I think the most memorable part of the whole experience actually took place on the ride to the doctor's office. On the last leg of our journey, what song should come on the radio? "The Final Countdown" by Europe.
Classic!
So, yes, my husband's balls were cut off. Figuratively, of course. And so far so good. But I'll be sure to post if they turn purple and fall off or anything. Now that would be great blog fodder!
****
Alright, I am getting terribly far behind on memes. I was tagged by Candace, Jo, and Piper (wenches!) for three completely different ones. So, tomorrow, it's
MemeFest 2007!!!
(Does saying like that make it more appealing? No? Well, what if I promised to take a meme hiatus thru the end of the year? Better, right?)
MemeFest, it is.
****
Did I mention my husband is bound and determined to kill our child in the guise of quality father/son time? Who thinks this looks like a good idea?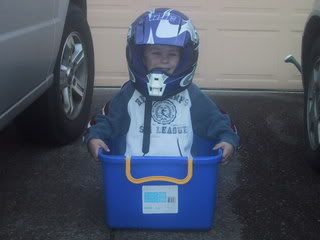 There's my son, poised at the top of our driveway in a box with wheels. Hubby says it'll prepare him for all the future soap box derbies they're sure to be involved in. My question is, don't those derby cars HAVE STEERING? And...oh, I don't know, BRAKES?
Semantics, I suppose. Here's an action shot of the little daredevil.
Boys!