...one garbage disposal at a time.
This is my dad, Jerry.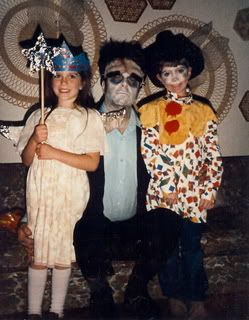 He's the Frankenstein in the middle. That's me on the left, the fairy princess with tin foil accessories. My brother's the one on the right. I don't think he dressed up that year.
(Also note my mom's flair for wicker-centric wall decor. Nice.)
Whenever I introduce my dad, I always refer to him as "a swarthier MacGyver", for a couple of reasons. One, for a white guy, he's fairly swarthy. And two, he's freakin' McGyver.
For those of you too young to recall who MacGyver was, here's a hint: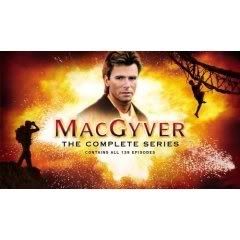 "Wait," you say. "Isn't that the guy from Stargate SG-1?"
To which I reply, "Come on. I'm telling a story here. Focus!"
For those of you who do remember MacGyver, you already know what a resourceful guy he was. Kinda like the Professor on Gilligan's Island, he could use
just about anything to get out of all sorts of scrapes. I never knew a gum wrapper had so many practical uses until I watched that show!
So, how is my dad MacGyver, you ask? Well, let me send it over to HIS ROBOT to explain...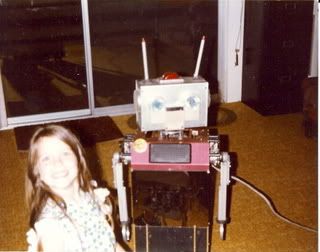 Yep, that's me and his robot, Zoom. The one he made out of parts from an old dryer, a security light, an intercom, and some scrap metal.
Like MacGyver, I like to think of my dad as a pioneer of the recycling movement. He was reusing junk when reusing junk wasn't cool. Something he's still doing to this day.
About eight years ago or so, my dad, who lives on a windy hill, must have had some time on his hands because he came up with an ingenious idea--turn old garbage disposals into wind powered generators!
Off he went to his lair--I mean lab--to start the process.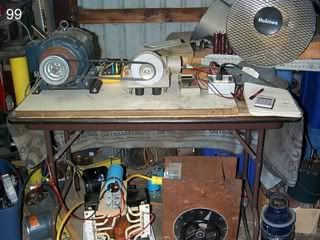 (Now y'all know why I have a magnet on my fridge that says
A clean house is a sign of a wasted life.
I learned from the best, I did!)
And he turned this: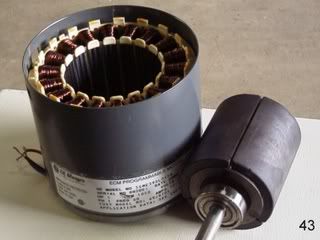 into this: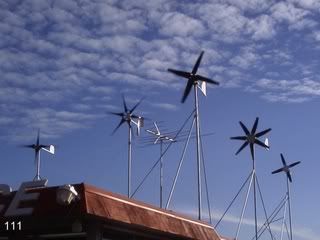 THE GARBOGEN!!!
He came up with the name himself. Catchy, isn't it? Yes, my dad is awesome, if I do say so myself!
Now, my brother on the other hand...