After 8 years together, he's walking out the door. To go to the airport. To catch a plane to Phoenix. For two days. Then he'll be coming back.
What? Did you think he was really going to leave all this sexy goodness? No way, sister! Or, uh, brother. He'd have to be crazy!
Because even if he wanted to leave, we made a promise to each other a long time ago that we wouldn't allow it. Plain and simple. One person wants to leave, the other gets veto power. Kinda like the checks and balances system, only for crazy-in-love people. And, thankfully, neither of us has chosen to test the system.
Our friends
envy
laugh at us because we can be a little...how shall I say this?...mushy.
A little mushy?
Shut up, Lovey.
I love you more. No, I love you more. No, I love you more.
I said shut up! It works for us.
Anyhow! Whenever he leaves, I have a little ritual I like to do. (Lovey doesn't know about this one, but I have a feeling she'll be having a heyday with it.)
When he gets up in the morning on the day of his flight, I get up at the same time. (Which, in itself is quite a sacrifice for me, since he gets up at an ungodly hour.) Then, while he's taking a shower and getting dressed, I make him a token of my love. I cut a small lock of my hair, and I sew it into a felt heart.
Corny, I know. Y'all are probably gagging by now.
Well, y'all can kiss my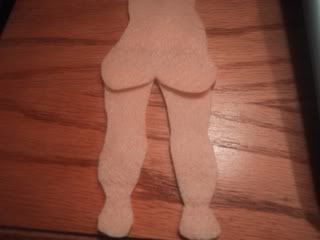 Did she just make a butt out of felt?
Darn tootin' I did, but I digress.
You'd think that my husband would be treading lightly after the whole
washer fiasco
, right?
Yeah, you'd think that.
There I sat, 5 o'clock in the morning, bleary-eyed and exhausted, but working diligently at my task while he showered and dressed. Normally, this would be the time that he packs his suitcase and waits for me to hand him the finished product. This morning, he leaned down to kiss me instead.
"Have a good day," he says, turning to go.
My brow furrows in confusion.
"Aren't you going to pack?" I ask.
"Flight's not 'til tonight," he replies.
My bleary-eyed gaze quickly becomes a dagger of rage. "Then what am I doing this for?" I demand accusingly.
He hesitates. He knows me well. One wrong move, and he's toast.
"I'm sorry, sweetie. I should have told you. Why don't you try to get some sleep? I love you."
The beast within me growls, but is led without incident back into its cage.
"Oh, and I need some clean clothes. Could you make sure you have some washed before I get home?"
Methinks he may not live to catch that flight.