You know how when you buy a new car, you start seeing them everywhere? Yeah. Or like when you...oh, I don't know...write an
incendiary blog post
about squirrels, say, and they start coming out of the woodwork.
Or running in front of your car, and then under your tires.
*groan*
Yes, I hit a squirrel this morning.
Don't even say it! Don't even think it! I am not the matriarch of some squirrel hating family with violent tendencies. I was not gunning for that squirrel, and all you naysayers can just shut your yaps! I live in a heavily forested region thickly populated with squirrels. You can't live here and not hit one. I know. I've done it twice.
Geez, I'm just digging myself in deeper, aren't I?
Fine. Believe what you will. Life is full of those funny little ironies, isn't it?
Oh, and they don't end there.
My son, Ethan the Squirrel Kicker, goes to a lovely little school in the country. They have lots of animals on the premises that the kids help care for. This is one of the many reasons I chose this school because, as I have already stated, we love animals. Love, love, love them.
(So, not only is the squirrel dead, but the horse she's beating is, too?)
Anyhow
, the classes at his school are assigned animal names. Can anyone guess where this is going?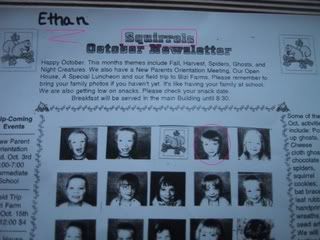 You guessed it. Ethan is a Squirrel!!