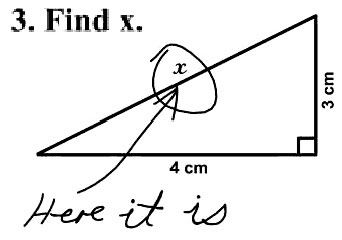 I laughed hysterically the first time I saw that. That is my humor in a nutshell. Stating the obvious. Because there is humor in the obvious, isn't there?
And it dawned on me that this is perhaps the best example of the way a child's mind works. You say, "Find X." Not, "Solve for x." Nope. "Find X."
"Here it is." Simple.
Subtlety and nuance are lost on children, yet we expect them to understand such things as idioms.
I've lost my mind. He hit the books. Her heart was broken.
Just figures of speech.
Common. You hear them everywhere.
When I stopped and spoke with the director of Ethan's school this morning, she said, "He's a very literal boy. He requires very specific instructions."
In other words, she believes idioms are somewhat of an enigma to him.
I'm not so sure about that. We have a wonderful book by Tedd Arnold called "More Parts" (buy it at
Amazon
today, together with the first book, "Parts", for the low, low price of $11.98!) which deals with this very subject.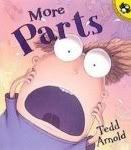 We chuckle at the part where the grandma tells her grandson to hold his tongue, or when the dad asks his son to give him a hand. And I say, "Does he really want his son to take off his hand and give it to him?"
Ethan laughs and says, "No, help him." At least as far as the idioms in the book go, he gets it.
But I will definitely be more mindful in the future of what I say to him. Like when I say, "You're driving Daddy to drink." Instead I'll say, "You're causing Daddy frustration, which leads him to drink."
Yeah. That's much clearer.