The other day I bought Ethan a Spiderman costume, and he fell in love with it. Refused to wait until Halloween to don the thing. He had superhero things to do, and by golly, they weren't going to be done in jeans and a tee shirt. So, I caved. Of course. That's my usual course of action when it comes to parenting my child.
(FYI--they're remarkably quieter that way. Try it.)
(
No, don't try it.
That was a test, and you failed. Never get your parenting advice from me. My son
kicks squirrels
, for God's sake!)
Anywho, said son gleefully stripped down to his Hot Wheels underwear and slipped into his black Spidy suit, and immediately commenced with his version of the Spiderman Dance, which looked a lot like interpretive robot.
Once the gettin' down with his bad self subsided, I asked him to do his best Spidy pose so I could take a picture. This is what he came up with: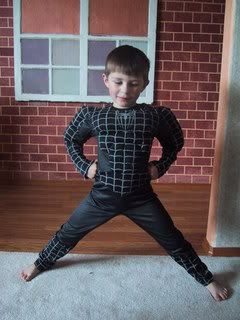 Apparently, unexpected crotch kicks are of no concern to Spiderman.
It shouldn't surprise me, really. The guy wears tights. I think I'd remember if he was really packing. (Tobey Maguire, not my son.) Not that I'm necessarily looking for those things, but come on! You can't tell me, say, a male dancer in tights bulging at the crotch doesn't draw the eye? Just a little bit?
Okay, I can't be the only one.
Well, regardless, as a mother, it's not something I want to think about when it comes to my son. But, oddly enough, I'm reminded of a woman I once worked with who informed me (for Lord knows what reason) that her son (whom I also worked with) was, and I quote, "hung like a stallion."
Mmmkay.
#1. Eeeeewwwww!!!!!!!
#2. How the hell would you know?!
#3.
Eeeeeewwwwwwww!!!!!!!!!
I couldn't look either of them in the eye again.
Don't get me wrong, it's not that I don't wish for my son to be adequately proportioned, but one would think that, as a mother, you would never have cause, once the young lad has reached a certain maturity, to have knowledge of such things. Am I wrong?
I'm looking forward to the day when my son
stops
flashing his winky all willy-nilly around the house. It's one of those things I don't think I'll miss that much.
I mean, sure, I'll miss it for the comedic value. The expression on that pizza delivery guys face...
Priceless.