We had our family pictures taken yesterday. Well, what I hoped would be our family pictures. We haven't had any taken in over four years. Probably because of the fits and temper tantrums that inevitably occur in the process. I dealt with the same thing the last time we tried to get our pictures taken, and wouldn't you know, nothing's changed in all that time.
My husband is still a jackass.
If you thought it was Ethan causing the problems, I assure you it wasn't. He was an angel. Stayed where he was posed, smiled big for the camera, flirted with the girls taking the shots. He's a whore for the attention, after all. And he got plenty of it.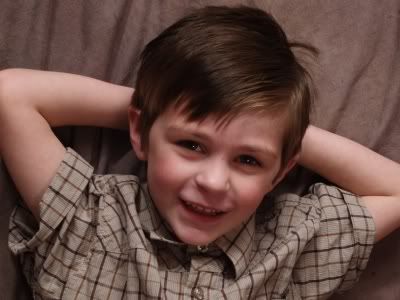 Compare that ray of sunshine with a constipated Squidward on bedpan duty, and you'd have a pretty accurate portrayal of our Sears Portrait experience.
Thank God we didn't go somewhere nicer!
If you think I'm exaggerating, allow me to enter this as Exhibit A:
I rest my case.
Now, it comes as no surprise to me that my husband didn't want to smile in these pictures. He is very self-conscious about his smile. I understand that.
But did he have to scowl?
Did he have to tell the poor girl who asked him to smile that he would have if he hadn't been kept waiting, but he had, so this was the best she was going to get?
A jackass and an idiot.
Because, as any sane person could tell you, it's no skin off her nose if you don't smile. She gets paid whether you like the pictures or not. You, on the other hand (I'm talking to my husband here), just shelled out $130 for pictures that look like crap, and infuriated your wife in the process.
Smooth move, Ex-Lax.
So, it should come as no surprise to any of you that I've taken the liberty to alter the pics a bit. Just a little tiny bit. You can't tell, really, unless you're looking very closely...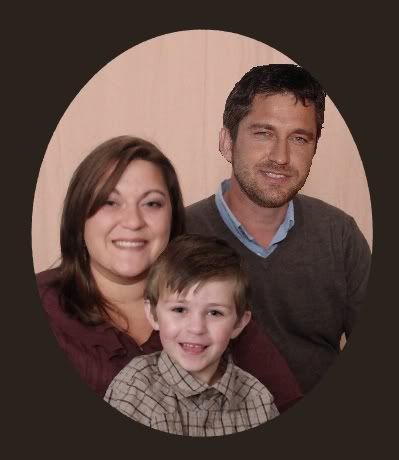 Hardly noticeable. But a vast improvement, don't you think?