Hanging Christmas lights is a festive occasion on our street.
Oh, not for us. We'd rather nail our thumbs to two-by-fours than string up the damn icicle lights. But we do it every year. Or, I should say, my husband does it every year. I just stand there and look pretty, and untangle the huge wad of wires. And, of course, roll my eyes when half the bulbs fail to light.
I used to lecture my husband on the benefits of testing the strands before he hangs them. But I learned early on in our marriage that it is easier to live with a half-ass lighting job than a pissed off hubby. And up until a couple years ago, it didn't really matter how the house looked. The only thing we cared about was not being known as "those" people.
You know the ones. The neighborhood scrooges who don't illuminate the bejeezus out of their homes, who buck the system and fly to Cancun instead. The ones we publicly admonish, but secretly wish we had the cajones to be.
Yeah. "Those" people.
Well, we're not "those" people. We'll probably never be "those" people. We've been assimilated quite nicely, and we've lost the will to fight it. We're burb dwellers. Kinda like mole people, but without the pesky fear of sunlight.
Burb dwelling does have its share of advantages. For one thing, neighbors are always providing excellent blog fodder.
Take Deb, the "Brit" from across the street. She goes crazy with the Christmas lights. Which, in itself is not that funny. Until I
remind you
that Deb is the one who handed out Halloween candy to the impressionable young people of our 'hood with a glass of vino in one hand and a bottle of vino in the other.
Yep, she's a lush.
Just this year, while hanging her Christmas lights, she fell off her ladder, hit her head on the garage door, and took a tumble out of her attic. And she never spilled a drop. If it weren't for her Vlasic liver, I'd be tempted to say she's nigh invincible.
And check out this lighting job…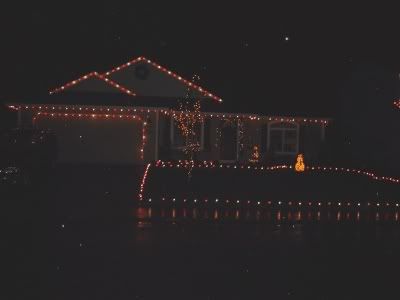 The picture doesn't really do it justice, but trust me--drunk has mad skillz.
Unfortunately, she also has no compunction about voicing her opinion of our own piddly little efforts.
The little tree was my doing. Pretty awesome, huh?
Oh yeah? Well, who asked you anyways?
Nope, You're Not a Grinch

Although you may feel Grinch-like at times, it's just because you're worn out from the holidays.
You get into the holiday spirit more than most people - and you truly enjoy celebrating with your family and friends.
***
FYI--to all you Buzzers out there, I'm hosting December's Writing Assignment.
Check it out.
And if you're not a member of cre8buzz, but would like to be, contact me for an invitation.