This past Sunday, while my husband and the boy were out flying their new Air Hogs (amusing little tale to come later), I engaged in a little guilty pleasure TV viewing. You don't understand--it's been roughly five years since I've seen anything on daytime television other than The Wonder Pets, and Spongebob, and all the other Nick riff raff. So when I came across a new reality/game show on VH1 poking fun at the intellectual capacity of some really, really, ridiculously good looking people, I knew I'd hit GP gold.

The name says it all.
If you haven't seen this, it's probably only because you feel great about your life and don't get a thrill from laughing at small children trapped in the hard bodies of aspiring mannequins. But if you're like me, you have no qualms. (Hey, I wasn't the one who signed up for this train wreck.)
You want to feel bad for these people. You really do. But right at the edge of pity, you hear them say things like,
"I'm not afraid to speak my mind of things that I wanna speak my mind of."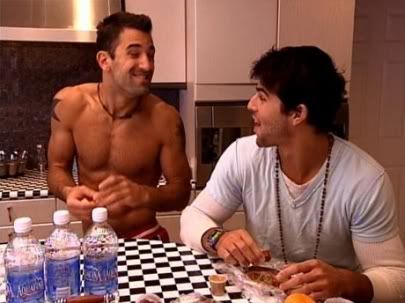 I feel the same way.
"Being smart to me isn't memorizing information that is often not used. Facts and definitions, I don't really wanna engage myself in."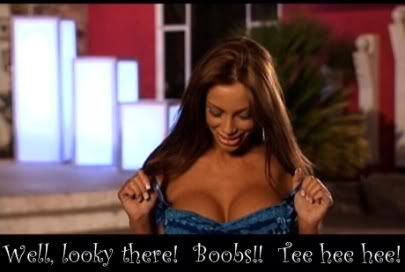 I hear ya loud and clear!
"Drawing a circle is not as easy as I thought it would be."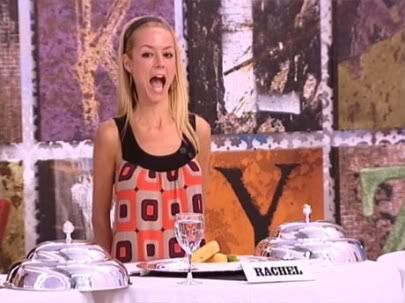 Really? I mean, they gave you a ruler and everything. How difficult could it be?
Incredibly so, as it turns out. Though, to be fair, that particular contestant, Rachel, was the dumbest of the dumb. The challenge she referred to there was one where the contestants were pitted against each other in a race to be the first to cut out six shapes.
Yes. You understood that correctly.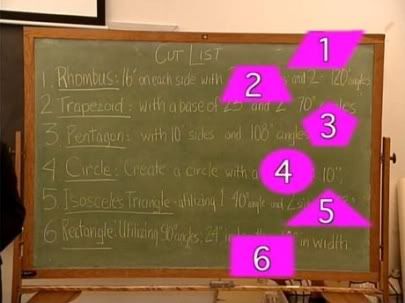 They had to draw the shapes on paper, then cut them out. With nary a pair of plastic safety scissors in sight!
This competition is brutal. Take, for instance, the question and answer competition where every right answer was rewarded with...celery.
WTF?!!!
And every time a question was answered incorrectly, the contestant was punished with moist, delicious chocolate cake. Or Twinkies. Or pancakes. These producers are sadists!!!
Insightful sadists. They have their fingers firmly planted on the pulse of Americans just like me. The slightly jaded thirty-somethings who want to see the skinny bitch who just said "I have a small tummy" eat the damn cake!
Yes, I'm a brunette. Why do you ask?
This, like many reality shows, relies heavily on its most outrageous characters for its success. Sadly, the ones who have delivered the show's finest gems have largely been eliminated. Mandy Lynn (the Hoochie), Rachel (the Idiot), Jesse (the Token "Fluffy" Gay Black Guy) are all gone.
One guy that keeps hanging on is the angry Russian, Andre.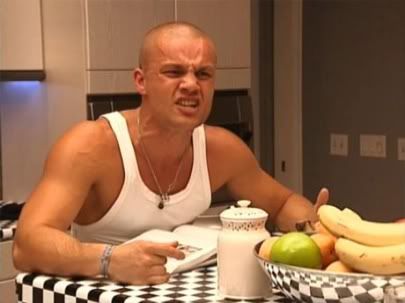 This guy is insane! Which makes for great TV. Although, I wonder if something is lost in the translation. When asked why he thought he could win the competition, he replied, "Have you seen my f@ing abs?"
Uh... Is that where they keep their brains in Russia?
Maybe I keep mine in my H cups! (Yep, get a load of my brains, people! They're real, and they're spectacular!)
I guess my only gripe with the show (which is really more of a non-gripe) is I don't get the point. It's not like potential employers are thinking, "Well, she looks great, she photographs well, and she'd be perfect for this job, but, DAMN IT, she's as dumb as a bag of hammers!" Somehow, I don't think that's a real consideration. Unless she's a drooler, she's in!
I think it's a fairly common assumption that models are not rocket surgeons. And this show is helping to prove it. You gotta check it out!