I haven't been feeling like myself lately. I've been lethargic and sleepy. I suppose it could be the weather--this area's not known for it's tropical climes, after all--but I think it probably has more to do with the crap I've been shoveling in my mouth, pound by delicious pound. Or maybe because I haven't left this chair since sometime around the middle of September. Heck, it's not like I have anything else going on in my life, right?
Thursday, a pile of clothes suggested I take a trip to the gym. Upon further examination, I determined that the pile of clothes did not, in fact, develop the faculties for verbal communication--it was my son buried underneath them who had spoken. As far as I can tell, he'd built himself a nice little nest in there, and had been surviving off the harvest of crumbs they offered.
As happy as I was to observe his mad skillz at adapting to harsh environments, I thought he might also have a point about the gym thing. I hadn't been in months, and I could definitely tell. When a walk to the mailbox in front of your house seems like something to do
when you have more energy
, it's time to hit the elliptical.
So, we went. And it wasn't bad. I did an hour on the treadmill, and did some upper body weights. It felt good. I felt good.
Then came the next day.

Pain!
So much pain!
Whoever among you says "No pain, no gain," I will make it my mission in life to teach you the true meaning of that expression. And I can, 'cause check me out...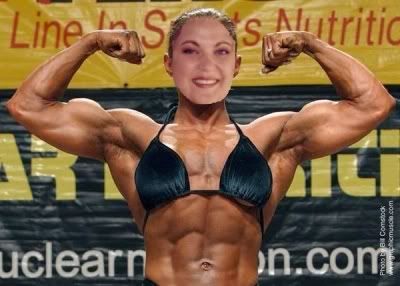 Yep. One day of lifting gives you the freakishly sculpted body of a female bodybuilder. Who knew?!
I've never been so toned and defined! So able to crush small foreign cars with a flex of my giant biceps. It's awesome!
In the wrong hands, this newfound strength could be something to fear, but I have vowed to use my powers only for good. To prove my point, I've kept a photo diary of my day.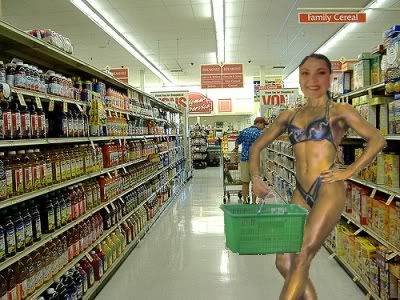 Here I am grocery shopping for elderly shut-ins. I'm in the juice aisle, stocking up on Clamato and prune. Old people love juice!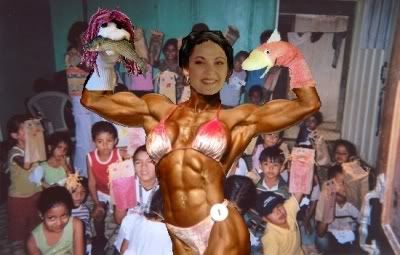 Here you see me giving a puppet show to under-privileged Nicaraguan kids. Sure, I probably could have used the money I spent on the flight down there to
buy them 8 laptops instead
, but what were they going to do with 8 laptops? They didn't even have electricity.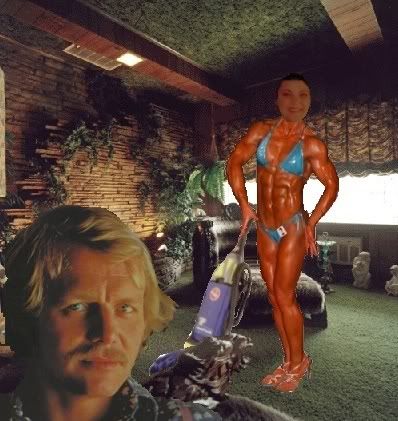 And, finally, I vacuumed David Soul's pleasure den. It smelled like wet dog and broken dreams. Poor Hutch.
I think tomorrow I might solve the world's hunger crisis. Or buy some clothes that fit. We'll see.