As you probably know by now, I am no longer of the employed persuasion. I quit my job at a computer chip manufacturer to become a stay-at-home mom almost 5 years ago, and it was the best thing I've ever done. Well, now that Ethan's in school a few days a week, I thought it might be nice to jump back into the working world. Earn a few extra bucks. Interact with other adults about things that really matter.
So, I took the plunge, and I applied at this company that some of you may be familiar with. It's a paper supplier, and I guess it's been in the news a lot lately. One of the branches, it seems, has a film crew following them around, doing some sort of reality TV/documentary type thing. I don't know. Sounds pretty lame to me. What could be so exciting about working in an office?
Anyhow, the name of the company is Dunder Mifflin. Recognize the logo?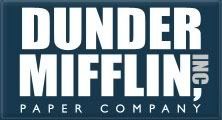 It's supposed to be a pretty popular brand from what the guy on the phone told me. I'd never heard of it, but I don't really pay much attention to paper. (I wouldn't tell him that, though. He seemed a couple bananas short of a hammock if you ask me.)
Anyhow, my application is still being reviewed, but I've been given a company profile. I sent in my most flattering picture...
Won't that look great on my employee badge?
And I've been given an assignment--make a "Green" poster to hang in my branch. I hope this is what they were looking for...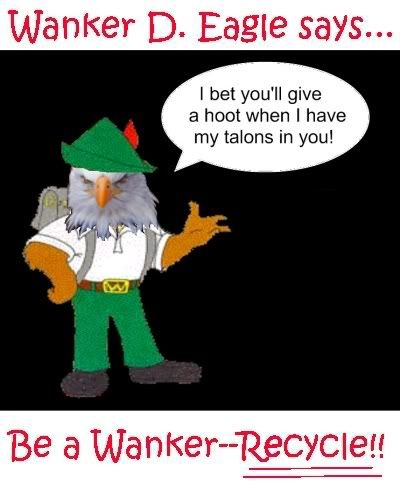 See, it's a take-off on the whole Woodsy Owl "Give a Hoot" campaign. Retro, but with a modern flare. It's edgy and gritty and totally street, but in a good for the environment sorta way. Think they'll like it?
Well, I should be hearing back from them any time now. In the meantime, I thought I'd go check out what all the fuss was about this place. I found this clip of the show on Youtube.
I don't know what the big deal is. They seem like slackers to me.
Hey, if you are looking for a job,
you should apply, too
! I guess they have lots of positions available, so it's no skin off my nose. I heard about it from
Mert
. She just applied there as well. She's hoping to get enough blogger types to fill the spots so we can break off and form our own branch. That sounds good to me.
Well, anyhow, I better go. Need to stock up on Talbot's suits and beige pleather pumps.
Ta ta!