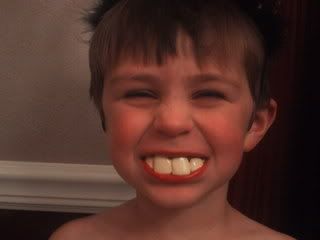 This is going to be the Best. Post. Ever.
Or not.
Virus is ravaging my body--thanks,
Mike
!--and I can't help but admit I'm phoning it in today. Hence the lame ass topic.
Hey, what do you want from me? I'm here, aren't I?
Well, in a sense, I am. Part of me is floating high above the clouds in a DayQuil-induced delerium. But the other part of me--the part that is shaking an angry fist at my husband and cursing him for leaving me in this lowly state with a sick child AND an empty refrigerator--is trying to make the best of this misery by inviting you to share it with me.
Good times.
It's bad enough that I'm sick, but my poor little guy puked his guts out repeatedly last night. I'm sure you're all joining your voices in a chorus of
Aw
. Well, don't! Today, he's at home with me instead of at school, and now that he's gotten all the yuckies out of his system, he's running around like a syphilitic monkey.
And I think we've already established that syphilis isn't funny. I'd like to add, it's not cute either.
He's deranged.
I took the deranged little monkey to the dentist yesterday morning (that's where the teeth come in), and he did great. His teeth are very clean, no cavities. Yay!
He has the good fortune to have my teeth. I'm 30, and I've never had cavities either. But my mouth does hide a head-scratcher: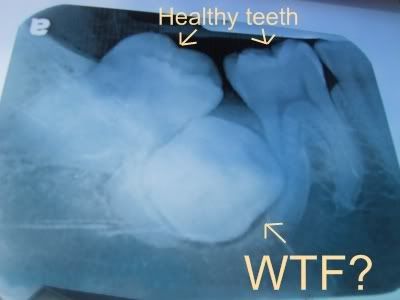 That's a tooth that grew sideways in my jaw. I had no idea. I have a rational and completely justified fear of dentists, so these x-rays were only taken a year ago. First dental x-rays I'd ever had.
I'm supposed to go to an oral surgeon to have is extracted, and each time I go in for a cleaning now, they ask me if I've made an appointment with the guy they referred me to. I just say no, and flash them my winning 31-tooth grin.
I detest mouth pain.
Since this post is already a meandering mess, I'll put a nail in the coffin and add that the dental hygienist told me I have a remarkably strong tongue.
High five!