Since I started this blog a couple of months ago, I've been very fortunate to have met so many wonderful, funny, insightful, amazing people. It has been a pleasure to get to know you, through your comments and your blogs, and I hope our friendships will continue to grow in time. I'd like to thank all of you for lifting my spirits on a daily basis, for challenging and inspiring me, and for being there when I needed you most. But mostly, thanks for sharing your lives. You make the world a nicer place.
Except for
Dan
. But he has some good points, too.
To show my appreciation, here's a little something for all of you--my favorite stuffed mushroom recipe. Great as an appetizer. They are requested at every family function we attend. Very easy to make, so if you have some last minute grocery shopping to do for Thanksgiving, why not pick up some stuff for these bad boys? Your family and friends will thank you! Unless they're Jewish.
And not because Jewish people aren't a grateful bunch, but because these contain bacon. Geez!
Stuffed Mushrooms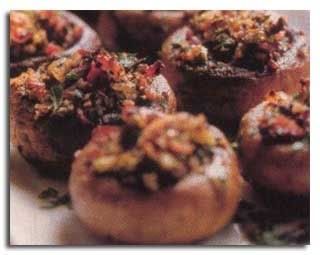 4 slices cooked bacon, crumbled
1/4 C. drained chopped olives
1/2 C. grated Parmesan cheese
1 T. Worcestershire sauce
1 small onion, grated
32 mushroom caps

In medium-sized bowl, mix bacon, olives, Parmesan cheese, Worcestershire sauce, and onion. Stuff mushrooms with mixture. Bake at 350 degrees for 15 minutes, then broil mushrooms for 5 minutes more until done. Could be served with steak or roast beef.



Have a safe, fun, happy Thanksgiving everyone!!