I couldn't think of anything wittier to call this post. I could have called it "Avery's Cinema Fest and Wii Video Game Review Spectacular, No. 1," but that's just a bit pretentious, don't you think? Like I assume you have nothing better to do than to waste your day reading long-ass titles of mediocre blog posts.
Now, if I were
Dooce
, I'd totally make you suffer through it. But Dooce I ain't, so you get the sucky short title.
Hey, you don't pay me enough to be witty anyhow, so you'll take what meager scraps I give you and you'll like 'em!
Moving on.
First, the movie reviews...
Ron and I got a chance before Christmas to take in a movie child-free. This may have skewed our opinions just a tad. Anything we can do child-free these days makes the thing we're doing seem exponentially more enjoyable. Take for instance:



Grocery shopping


Like a hand-in-hand stroll down a fluorescent-lit garden path lined with Kraft Mac and Cheese trees and Palmolive bushes.



Oil change


A veritable cornucopia of treasures in the form of outdated magazines, tepid waiting room coffee, and exchanges of sparkling repartee with total strangers equally mechanically-disinclined.



Root canal


A carnival for your mouth!

Understanding this, you'll just have to take my word for it that "
Walk Hard
" was one fantastic movie!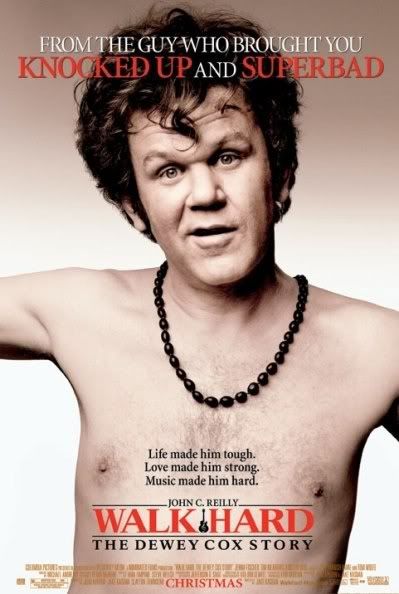 I have admired John C. Reilly since I saw him in "Boogie Nights", but my admiration turned to true puffy heartedness with "Talladega Nights." While Will Ferrell may be the pinnacle ass clown of stupid-funny movies, "Walk Hard" is Reilly's chance to prove he's got the chops to rival the master. And prove it he does.
The movie, a spoof on "Walk the Line" (and "Ray" tangentially), stars Reilly as Dewey Cox, a Johnny Cash-esque music legend, following him from his tragic childhood through his rise to fame, and his eventual downfall, followed, of course, by his triumphant return to the stage. Guest stars abound, to hilarious effect, as only marginally disguised figures of rock n' roll history. (The bit with the Beatles has to be my favorite.)
The only thing I didn't like about the movie was that it ended too soon! (Well, that, and there was a little matter of Reilly's distracting cro-magnon ridge, which made him resemble one of the Cavemen during his hippie phase. But otherwise, it was all good!)
Why, even Ron gave it a glowing "It wasn't bad" review. And for him, that's saying something.
The next movie I saw was "
Alvin and the Chipmunks
" with Ethan.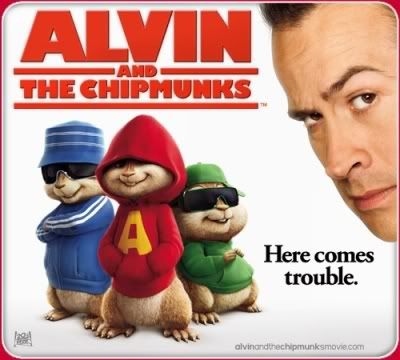 As a kid movie, this one rated highly. Well, with my boy anyhow. You know, the one who
licks windows in public places
and
kicks squirrels
.
So, if you have one of those, then this movie may be right up your alley. Or if your child likes adorable talking CGI rodents, you may find it an okay way to waste some time. Just don't go into it expecting much for yourself. It's not Shrek.
There were adult-friendly elements to the movie that mostly fell flat. Though David Cross did a decent job of trying to liven up a wooden script, his normal
Tobias Funke
delivery was missing. And Jason Lee as Dave? Lint has more personality.
So, go for the kids. But if they're not pestering you, skip it.
And finally,
Dapoppins
and I took in a showing of "
Sweeney Todd
" yesterday afternoon.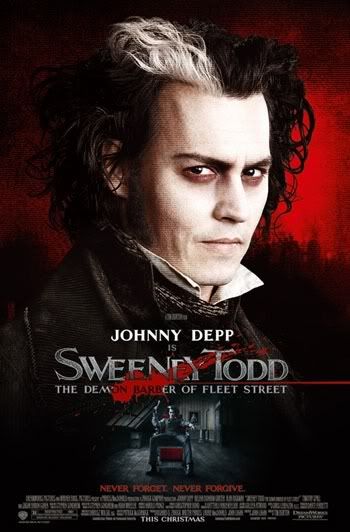 And I promised her I wouldn't remark on her lateness, or her microscopically small bladder, so don't even think about asking! I'm not saying a word.
But I will tell you that the movie was great. Johnny Depp and Helena Bonham Carter did admirably well as Sweeney Todd and Mrs. Lovett, and with Tim Burton at the helm, this particular adaptation was visually stunning, as to be expected.
Detractors of the movie have remarked on the amount of blood and gore. Well, duh, people. He's the Demon Barber of Fleet Street! He butchers people and makes them into meat pies. If you know nothing else about Sweeney Todd, at least wrap your mind around that.
And the blood didn't even resemble the real stuff. It was much brighter in color, and was the consistency of water. And it squirted a lot more than real blood does. Why, when I hack up my victims--
Oh, wait.
Nevermind.
Moving on.
To the Wiiiiiiii!!!!!
For those of you lucky enough to own such a fine video gaming system, you already know the inherent joy that comes from said ownership--the hours of enjoyment for you and your whole family as you kick the crap out of each other in boxing, baseball, golf, tennis, and bowling. Yes,
Wii Sports
is a fine game.
Another fine game, in my humble and completely unbiased opinion, is
Super Mario Galaxy
.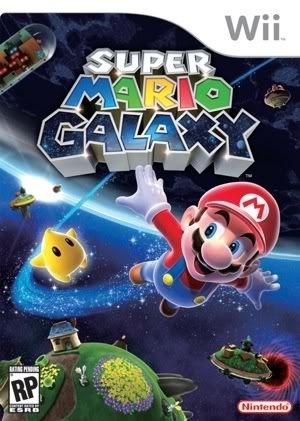 That should come as no surprise. It was
Yahoo's Game of the Year
, and Action Adventure Game of the Year. And it's a rollicking good time!
Ethan especially likes the "multi-player function", but don't be duped into thinking that means you can play with two people at once. Only one person can play, but another person can point a second Wiimote at the screen and aid in capturing star bits. Which just happens to be perfect for us, since the game is way beyond Ethan's abilities just yet.
And Ron's, too, apparently, though he would like you all to know that he owned me at bowling.
And I maintain that my 187 was a respectable score, and he can bite me. Hard.
Anywho, I'm also enjoying my
Zelda: Twilight Princess
, as I knew I would. Any other Zeldaphiles in the house besides this guy?
Nice ears, dude.
Bet those get you all the chicks!