I got this great idea from Meleah from
Momma Mia, Mea Culpa
. If you haven't checked out her blog, you simply must. Her
latest post
was an incredibly moving tribute to her dear friend, Peter, who passed away last week. Please swing by and offer up some words of support and encouragement. I'm sure it would mean a lot to her.
So, you know how my husband
hates to smile for pictures
? Yeah, what do you think he feels about
this
?
Just a little holiday spirit from my family to yours. But I want to know why in the world my son has to be the "special" one? I wanted it to be my husband.
As you may recall, Ethan had
an evaluation last week
. I know some of you are wondering how it went. Well, I wish I could tell you. I still haven't heard anything back from the evaluator.
I did speak with Ethan's teacher, and what she told me the evaluator asked her sounded a little disheartening. (Meaning it seems as though she may be leaning towards autism, and if that is the case, we're back in square one, because my son
does not
have autism, but that seems the thing to tag kids with nowadays.)
But, who knows? She may just be attempting to rule it out. I won't know for sure until she's done with her report and calls me to set up a meeting time.
In the meantime, we're going to
Lovey's
house to brush up on our rusty
Zelda
skills on her Gamecube. Got to be in top form when my husband "
allows
" me to bust out the Wii on Christmas morning.
(He continues to poke the bear. Stupid, stupid man.)
And, as a personal aside for the individual who e-mailed me and told me to "treasure the relationship" I have with my husband "rather than demean it", I have one thing to say to you:
Ron, stop setting up fake e-mail accounts and accosting me with this drivel. You know I love you, you idiot. Why else would I still be around now that all the gold has been dug?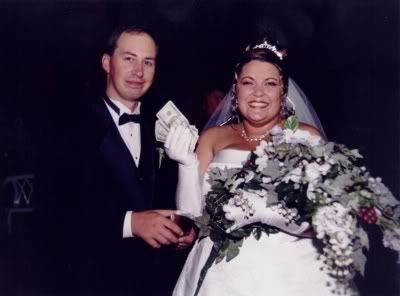 Geesh!