Wouldn't you know that when I declared
MemeHiatus 2007!!!
, I'd end up being tagged more frequently than before? It's not that I don't enjoy the occasional meme. No! It's just that I was getting tagged so often, I couldn't keep up.
And I've only been blogging a short time, but even I know a meme is really only interesting to the person doing it. For the most part, it bores the readers to tears, drives them away by the handfuls. And what are we doing this blogging thing for if not the readers? Plus, it says in the Bible a blogger's stats cannot subsist on memes alone. Don't quite recall which book, but I'm pretty sure I'm remembering it right.
Yet, here I am, in full MemeHiatus mode, and conflicted. Deeply conflicted.
I want to keep my promise to you and abstain from any form of meme until the start of 2008. For what am I without integrity?
But I also want to get the damn monkeys off my back. They have fleas and they fling their poo. And what is integrity with a poo-flinging, flea-ridden monkey on your back?
What to do? What to do?
I know! I'll have a contest!
Based on
the 7 Random Things Meme I've been tagged with (by six, count 'em, six lovely individuals).
Here's what we'll do:
I am going to list
SIX
random facts about myself and
ONE
falsehood. Your job is to determine what is true and what is not.
Whoever guesses correctly will have their names put in a drawing, and a winner will be chosen at random.
Want to know what you're playing for? Alright. The winner will receive their choice of $25 gift card to iTunes, Best Buy, Pier 1, Starbucks, or Target,
OR
may choose one of the following books from Amazon: Stephen Colbert's
"I Am America (And So Can You!)"
or Jon Stewart's
"America (The Book) Teacher's Edition"
, depending on which side your bread is buttered.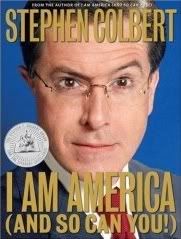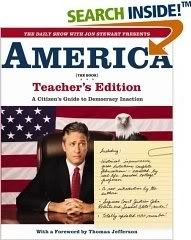 How sweet are those prizes, huh?
Well, it doesn't end there! I am hereby bestowing, on
everyone
who enters, the coveted "
I guess your blog's not THAT bad
" award. (Follow the link for instructions.)
Can this day get any better?!
No. No, it can't.
So, without further ado, I give you
6 Truths and A Lie about Avery Gray
:
1) I was born in a hospital waiting room...by Cesarean.
2) I have never used an electric toothbrush for anything other than its intended purpose.
3) My timed score on Bejeweled is better than my untimed score.
4) I am a Republican, born into a family of damn dirty Democrats. (Sorry Mom and Dad. I calls 'em as I sees 'em.)
5) I was a high school Mathlete, but I was the weakest link on the team.
6) I almost died of hypothermia once in college when I was locked in a parking garage overnight and the temperature dropped below freezing.
7) I have never killed a man just to watch him die, but sometimes I'd like to.
So, there you have it! Which one's a lie? It's up to you to figure it out!
Contest runs thru Sunday, so get your entries in now!
Good luck!!