Today was Ethan's school Christmas program.
That's right. Christmas. Not Holiday. Not Winter Solstice. Christmas.
Put that in your non-denominational pipe and smoke it!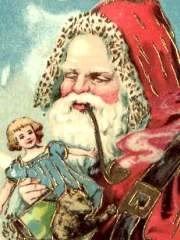 His school is owned by a couple from South Africa, and they could give a rat's patootie about being politically correct. They're cantankerous old people, and I love them for it!
Now, the show itself was just a bunch of generic Christmas carols sung by adorable little children...
And my son.
Don't get me wrong. My son was the cutest one there. (That may be a biased statement.) But he was also regrettably unfocused on the task at hand.
As soon as his class filed onstage, the spectacle that is Ethan began.
While the rest of his class stood quietly awaiting their cue, Ethan was waving at the crowd and saying, repeatedly, "Hi!"
Then, "Hi, my name's Spaghetti!"
Somewhere in the middle of the song, Ethan stepped to the front of the stage and proudly announced, "I like Krabby Patties!"
This, of course, garnered plenty of laughs from the audience. Almost as much as his request for a microphone. And his subsequent dancing.
My husband was mortified.
Not me. He's my little ham! I've come to expect these things from him.
Regardless, my husband has requested that I "work with him on this." And like a good wife, I promised that I would.
I won't, but what a good wife I am for putting his mind at ease, huh?
In other news...
A commenter on my Buzz page said: "I imagine your voice sounds like the lady's voice on NPR's Splendid Table...very classy and elegant."
Well, Scott, I thank you for the compliment. I'm not sure what she sounds like, but I don't think my voice is very remarkable in any way. I admit, I've never really thought all that much about who I sound like, and if I could figure out a way to hook our video camera to our computer, I'd just film myself and post it here to assuage your curiosity.
I asked my husband about it, and he said I sort of sound like someone on NPR. Then he asked me what NPR is, so he obviously doesn't know what he's talking about.
I guess the bottom line is, regardless of what my voice sounds like, "classy and elegant" I ain't.
Mmmm... Schweatty balls...