Ron and Ethan!
See? I
told you
they'd come back to me!
And here I am. Just like I told you I'd come back to you. Aren't you the lucky ones?
Yes,
RaJ
, I took the weekend off. Yes, I am a slacker, but I gotta tell you, it felt great! I read three books, made carrot cupcakes, watched my husband clean the house, caught up on some quality family movies I'd been meaning to watch...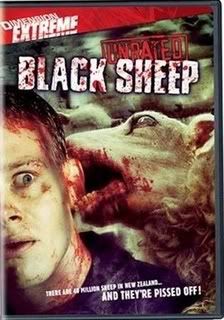 ...stuff I haven't done since this whole NaBloP--oh, I'm not even gonna type it out again. That was in the past, and the past is behind us.
Wow. I think that's the deepest thing I've ever said. Feel free to bask in the wonder that is me.
I'm on a high today, my peeps, and it's called life! Wanna know why?
I gotta Wii!
(Yeah, yell that in a crowded place and see if you don't get strange looks.)
I know I never mentioned my intention to snatch up one of these things. Probably because I hadn't even thought about it before last week. I'm one of those people who's slow to catch on to things.
*crickets chirping*
Well, don't all rush to my defense at once. It's true! In fact, I just picked up a military-style Members Only jacket and thought that might go real well with my gold-lame Hammer pants and my plastic arm bangles.
(Never should have left that towel over my face in the tanning booth. Now I look ridiculously uneven.)
Anywho, my loverly friend,
LoveyH (aka Shannon)
, and I canvassed the area (is it canvassing if there were only two of us? That's really more of a straight line than a plane, which is what I think of when I think of canvasses. But I suppose "lining the area" wouldn't really make any sense. That makes me think of grids, and... Oh, do I digress?) and we each went to our respective stores at 6:30 Sunday morning.
Did I mention that Shannon is a loverly friend? It's not just anyone who would get their ass out of bed that early on a Sunday morning so their friend might have a better chance of buying a video gaming system that will no doubt be obsolete in six months!
(Maybe I should have left that last part out.)
Well, I got to my store, and got a ticket for the "lottery"--where the winners get to shell out $300--and stood patiently waiting for the inevitable windfall.
Inevitable? Well, that's a bit smug, don't ya think?
Who said that?
And no, disembodied voice, I don't think it's smug. There's no way I could have failed. I had my ace up my sleeve.
Which was?
Dude, you're creeping me out. Knock it off!
But since you asked, I'll tell you. I was wearing...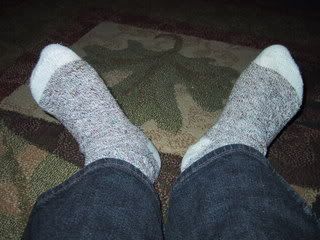 my lucky socks. The kind you can make monkeys out of...
...only without the red heel.
So, as you can clearly see, the Wii was mine all along. Those other chumps who got there at 5 didn't stand a chance.
I felt a little bad for them. One woman told me she'd been out at the stores since early November trying to get one of these things for her grandson. Almost made me want to give her my ticket and leave. Almost.
But I didn't. And now I am the proud owner of a brand spankin' new video game system that I know next to nothing about. But it's got nunchucks! How cool is that?!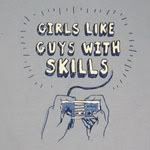 Shannon's efforts were less successful, but no less appreciated.
(She's off my Christmas list, and I am accepting applications for her replacement.)
Okay, that's not true. She braved the inclement weather for me, although, thankfully it wasn't as bad as we were told it might be. We were supposed to have wind gusts up to 80 mph.
Oh, we did get some wind. Want to see the extensive damage it did at my house?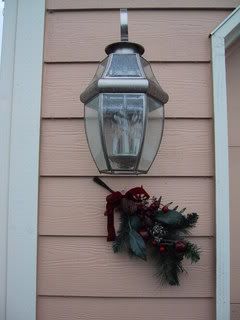 Chilling, isn't it? And after minutes of costly repairs, here's what it looks like now.
Thank God we could save it!