Lucky socks strike again.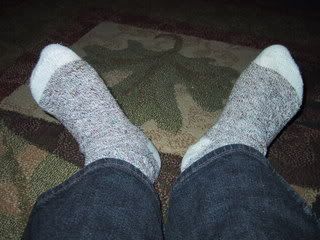 Behold.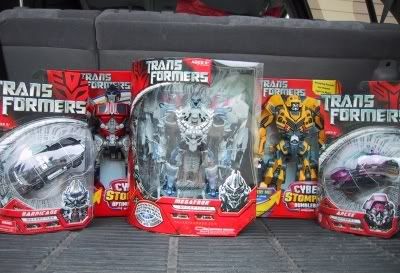 Would you call that a plethora of Transformers? Because I would.
Oh, baby, would I!
Another Sunday up before six, but it's all good. Because the only thing Ethan wants this Christmas--and I mean the ONLY thing--is "a really big Transformer." He sat on Santa's lap, eyes shining bright with hope (or perhaps rheumatic fever), and begged the guy for Optimus Prime.
No problem, I thought from the confines of my smug little bubble. I'll just pop on into Toys R Us and rustle up a Prime. No biggie.
Biggie.
Huge biggie.
No one had them. Not Optimus Prime, not Bumblebee. Oh, sure, they had plenty of Megatrons, but who wants a Megatron? Prime is money, baby. Megatron, not money. Not for the young'uns. Not unless they're milk money stealing bullies. Those are the only kids who want Megatron.
So, why do I have a Megatron? I panicked! There were no Autobots to be found at the first 3 stores I went to. Just the leader of the Decepticons and his ilk. And I couldn't very well walk away empty handed. If worse came to worse, there had to be a Transformer under the tree. There. Had. To. Be.
So, I rolled to Toys R Us with a little accompaniment from The Raconteurs.
Yeah, I was feeling pretty badass.
When I got there, of course, there was a crowd of about 20 people hoping for a chance to buy a
Wii
. They didn't have any.
Suckers!
(That wasn't nice. I apologize. Allow me to put down my nunchuk controller and give you a sympathy hug.)
When the Wii crowd dispersed, there were only five of us left standing. No one really wanting to reveal what we were there for. After all, we might be vying for the same prize.
Turns out, four of us were. The odd guy out was looking for a Hannah Montana guitar for his "granddaughter."
Suuure! His granddaughter.
Two of the other guys were there to buy Transformers for their sons. The last one was there to buy them to resell on eBay.
Douche.
Oh, it's not that I mind that people do that, but come on! Three people just told you they're looking everywhere for these things so their children won't have their hopes dashed on Christmas morning when the Transformer they begged Santa for doesn't show up, and you can't be bothered to invent a child of your own?
"Oh, yeah, little Johnny's just dying to get his hands on as many of these babies as he can this Christmas."
At least then I would just think you're an over-indulgent parent caught up in the magic of the season. *cough*
Well, it worked out fine in the end. EBay was thwarted for the big ones, but he was happy with the little guys, and the rest of us got one big Optimus Prime and one Bumblebee each.
Praise the Lord!
(Not that He is affiliated with or endorses or otherwise approves of the Transformers, or that He had a hand in my procuring said items. I'm just sayin'...)
Our Christmas is saved, and everyone is happy.
So, what's on your wishlist this year?
***
[Just a reminder, today is the last day to get your entries in for
the contest
. The winner will be announced tomorrow!]