I bid a fond farewell to my "Write less"
Shmesolution
.
Today's word count: 3124 unedited.
Oh yeah! Uh huh!
(I'm doing the white girl Cabbage Patch.)
Possible reasons for this unparalleled bout of prolificacy: today was the first day in the last
fourteen
the TV was not on once, there is not one single working phone in this house (stupid awesome batteries), and best of all, I was alone for eight magical hours.
Eight fantastical hours.
Eight hours when no one required a darn thing of me.
Heaven.
Of course, that means I am just falling farther and farther behind in my blog reading. I am filled with shame. And deliciously prepared chicken. But mostly shame.
Dinner was great. Thanks for asking.
Anyhow, tomorrow is
Lovey's
30th birthday, and I've invited her and the kids over for a rousing day of Wii play, so no blog reading then.
And Saturday, I'm "dragging" her...*snicker*...to
Darcelle's
. (Just don't call them drag queens. They're "showgirl emulators".)
Long story short, I have every intention of catching up on all your fine blogs. Eventually. But to tide you over, here's another look at the Gert Jonnys.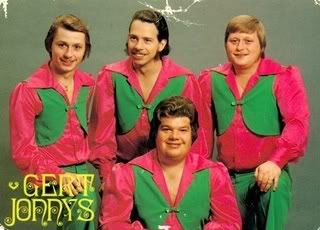 Mmmm... Sexy.