I recently spoke with the woman who did
Ethan's observation
back in November. She was quite insightful and pleasant to talk to, and I felt an immediate rapport with her. We chatted at length, not only about my son, but about her own kids and their experiences dealing with sensory integration issues. She had some great advice on how to help Ethan deal with environments of excessive stimulation (like a noisy classroom), and also things we can do at home.
Things like buying foam bats and beating the crap out of each other.
Or squishing him with a pillow.
Or making him carry heavy things around the house.
Yes. If you can believe it, these kids actually do respond well to these activities. Kids with
auditory processing disorder
, like she believes Ethan has, tend to need lots of physical stimulation to counteract the painful stimuli. They need joint pressure (hence the squishing and the lugging), and roughhousing to release the pent-up energy (aka the beatings).
And I am nothing if not a caring mother. If I have to beat him senseless, well, that's what I'll do.
Out of love, of course.
(An excuse to beat my child? How jealous are you right now?)
In the classroom, for a short-term solution until we can get him into occupational therapy, she suggested we get him a pair of earmuffs that he can put on when the room gets too loud for him. So, off we went to the sporting goods store this weekend to buy him a pair.
We found some nice gray camouflage ones. And while we were there, Ethan fell in love with a stupid looking reindeer hat.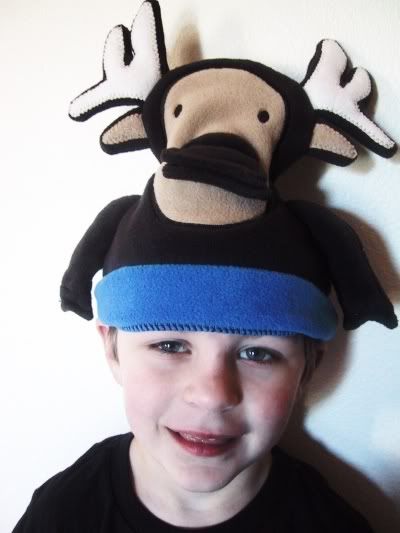 Seriously, it's like a reindeer/platypus hybrid. If you saw an animal like this in nature, you would shoot the poor thing and put it out of its misery. But since we were expecting some arctic winds through our area this week, my husband went ahead and bought it for him.
He hasn't taken it off since.
When I took him to school yesterday, being that it was a holiday, his regular teachers were not there. He was in a new classroom with new teachers, and he was feeling a little uncomfortable. He asked me if he could leave his
retarded reinypus
hat and earmuffs on.
I said he could. I understood that he was using them as a sort of security blanket, as he does at times with his coat. It's not unusual for him to leave his coat on in new environments. If it helps him cope with the stress of the situation, it's fine by me. And if a ridiculous hat and earmuffs make him feel more comfortable, only the world's biggest bitch would have a problem with that.
(Can you sense the foreshadowing?)
Okay, the new-to-him teacher was not a bitch, but she is used to working with the older kids. She's a third through sixth grade teacher who is obviously unfamiliar with Ethan's peculiarities.
As I was saying my goodbyes, I kept feeling the weight of her stare.
So, the kid wants to wear his fugly hat. Big deal!
She was still staring when I spoke with the other teacher about his eccentric apparel.
When Ethan walked me to the door.
When I gave him a kiss.
When I waved good-bye.
Then I heard it. A pithy little remark under her breath.
"Must be cold in here."
I paused for a fraction of a second, considered turning around and giving her my best "I'm watching you" DeNiro gesture. In the end, I didn't. I'd already explained Ethan's little get-up to the other teacher. She understood. And since this was just a one-day arrangement, there was no use getting into a "thing" with her.
I left.
Walked out to my car, and happened to catch a glimpse of my reflection in the window.
I mentioned it was cold, right?
Yeah. Let's just say it was
noticeably
so.
(Basic physiology, wench. Get over yourself.)