Gosh, people. Is it Gang Up on Avery Day?
How come I can't get no love?
First
Lovey
tells me that her husband, Mr. Engineer, thinks I talk about my boobs here too much. Then my husband told me my old profile pic made me look like a dowdy librarian. Now
Emma
says my new one makes me look like the Joker from Batman.
I'm developing a complex.
Is it really that bad?
I tell you, I am this close to jumping off the nearest high-rise today, people.
(Imagine I'm indicating a very small distance between my thumb and index finger.)
I'd best quit while I'm ahead and post my album cover.
Didn't know I was a musician, did ya?
Well, I am nothing if not a ROCK STAR!!
I saw this meme over at
Meleah's place
and it looked like a whole lotta fun. And it was! It was so fun, I did it twice, 'cause I'm an overachiever like that.
Here's what you do:
You are about to have your own band's CD cover. And NO THOUGHT is involved. I followed these instructions to the letter and below is the end result. Try it yourself? Here are the directions:

1.The first article title on this page is the name of your band.

2. The last four words of the very last quote on this page is the title of your album.

3. The third picture, no matter what it is, on this page, will be your album cover.

4. Use your graphics program of choice to throw them together, and post the results.
So, here's what I came up with...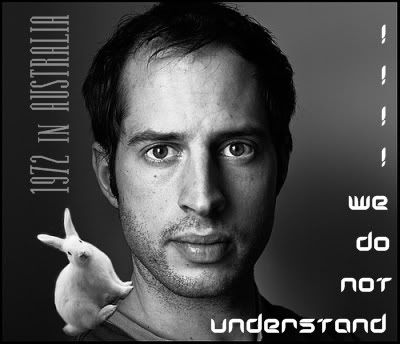 This one is from my folk/grunge/polka phase. I was lead accordion. Sadly, the singer, Yon Ferguson, developed a harrowing addiction to the Butterball hotline shortly after this album was recorded. Despite the introduction of Skippy, the miniature yodeling bunny, albums sales lagged, and 1972 in Australia broke up after only two weeks together.
On the bright side, Yon never kicked his habit. And he still makes the best turkey.
Now, this one...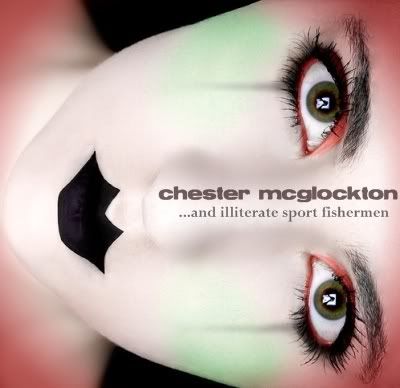 This was my ill-advised tribute to the ladies of Lilith Fair, back when I was playing the dowdy librarian circuit in the mid to late-90's.
Lilith Fair
, you'll recall, was a music festival attended mostly by lesbian hippies and the lesbian hippies who loved them. While I did not attend for obvious reasons--mainly my aversion to all things hippie--I was all about the message of female empowerment. So, I donned a new persona--Chester McGlockton.
Why that name?
Well, although I have great jugs, I felt Chesty was probably a little too sexist and pornish, and I needed a
strong
name to convey not only my innate woman powers, but also to play up the awesomeness of my rack. (You know, for the lesbians.) Hence the name Chester.
And McGlockton? Well, it sorta sounds like McLachlan if you say it fast. And I wasn't above using the Lilith Fair's founder to pimp my CD.
Money talks, homes.
In the end, it only sold 11 copies. But I'm still hoping "...And Illiterate Sport Fishermen" will make a comeback.
Hey, if you buy a copy, I'll show you my boobs!