We have a common nemesis, and her name is
holly
.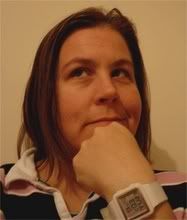 Sure, she seems sweet and innocent on the outside, but beneath the saccharine exterior lies the creamy nuggat of a corrupt and reprehensible foe. A scheming villain with a butterscotch chip on her shoulder. A mastermind of epic portion control.
A denier of all things good and right in this world.
Namely chocolate.
She and her band of ne'er-do-wells, pictured here...
are attacking our very way of life--not only by refusing to consume ANY chocolate in the month of January, but also by recruiting untold masses to their twisted agenda.
Are you going to sit silently by while the militant hippie radicals spew virulent anti-chocolate propaganda?
What's next?
Can the coffee?
Say no to Sauvignon?
Where will it end?
Already they have set in motion their insidious plot to weaken our defenses.
To them we say "
You will not prevail!
"
We will stand united against these fiendish malcontents, and we will
FIGHT!
We will
not
succumb because our way is right and true, and our hearts are pure.
Now
is the time to act! Show your support. Join the resistance! And together we will defeat the celery scourge!
Viva le Chocolat!!