Really quick...
About
the tornado
--it touched down about 5 miles from us, but lost a lot of strength before it passed over. We got the dark skies, the hail, and lightning and thunder, and we lost power for a little under two hours, but sustained no damage. Thanks to everyone who called and e-mailed. Hope you're all okay, and that your homes are still intact.
The wind and the rain are weaker now, but new systems are forming to the west of us. It is unlikely that they'll form another tornado. They're very rare in this area. But it will make clean-up more difficult for those whose homes were damaged.
Thankfully, as far as anyone knows, there were no casualties this time. Still, pretty scary stuff.
Okay...
Misssy
, the dear, has tagged me with a simple little meme. Three questions:
What am I reading at the moment?

What am I listening to at the moment?

What am I watching at the moment?

Fair enough.
What I'm reading: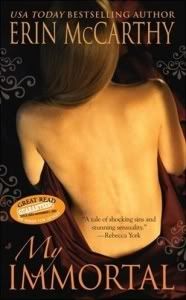 Started this one last night, so I haven't really gotten into the book yet. It's a little darker than my usual fare, but I told a friend I would read it, so I shall. It's paranormal and gothic, set in Louisiana in present day and also the late 1700's. The book chronicles the fall of Damien du Bourg, who sold his soul to a demon's daughter in exchange for immortality, then lived to regret his decision. So, the premise is nothing new, but what is it they say? There are no new stories, just new tellings. So, I'll try to keep an open mind.
What I'm listening to:
In constant rotation on my iPod--Aqualung, Blue October, Citizen Cope, Coldplay, Damien Rice, Death Cab for Cutie, Evanescence, Guster, Interpol, The Killers, Maroon 5, Midlake, Modest Mouse, Panic! At the Disco, The Raconteurs, Ringside, The Shins, Snow Patrol, and Travis.
Just downloaded yesterday--Timbaland, "Shock Value"
What I'd love to have on my iPod, but can't find on iTunes--
What I'm watching:
Nothing. Damn writer's strike!
What would I be watching if there were no writer's strike?
The Daily Show, The Colbert Report,The Office, 30 Rock...the usual stuff.
Okay, I'll confess. We're watching
The Celebrity Apprentice
. I'm rooting for Omarosa. She is just too evil to be real!
As for tagging... Heck, I don't know. If you want to do it, feel free.
Strange day...