I haven't forgotten about you, guys.
I'm sure you could care less about
chocolate
or
whether or not the ladies of blogland ever eat it again
. So, before I chase you away in droves, I figure I'd show my appreciation for you sticking around as long as you have.
Consider it a bribe. I might need to talk about hormones at some point, and I don't want to have to do this every time I get a little girly on you.
So, first things first, for
M@
, I have a major award!
I'm sure I'm small potatoes on M@'s radar. He's amazingly articulate and intimidatingly intelligent, and he's not afraid to speak his mind on
any
topic. I may attempt to match wits with him on occasion, but I never delude myself into thinking I have a shot in hell at succeeding. But even though he may insult me from time to time, he does it in a way that makes me think I might not be insulted after all.
Now,
that
is skill.
So, for him, I have an original award I've named the "Blog of Steel Award".
For the guy who don't take no guff off no one.
Hope you like it, M@. It's no "Yoga as Porn", but it's the best I could do.
Now, for
Jef
, I have a big ol' box of chocolates.
Ha! That'll teach you to sass my burgeoning resistance forces.
Next, I told
Lazy Ig
a while back that I would post pictures of our boat. We actually have two--a
15 foot Alaskan Smoker Craft
for drift fishing, and an 18 foot Jetcraft for fishing in the Columbia River. The Jetcraft is my husband's baby, as I'm sure Ig can relate. He's quite the boater himself.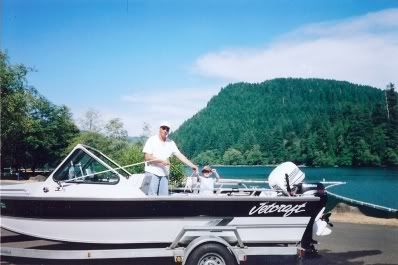 There's hubby and the boy after a day of Kokanee fishing onboard the "Happy Hooker". (No, that is not emblazoned on the back. Over my dead body will it
ever
be.)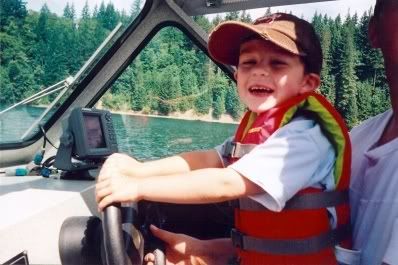 Ethan helping Dad drive the boat.
And these are what we catch when the boy's not around. The big one on the left is a Chinook salmon. The one on the right is a Coho. And, yes, I landed them both.
Rock star!
Hope you like those, Ig! I can even tell you what kind of depth finder we use--it's a Lowrance! But don't ask me anything more technical than that. I'm sort of like the Julie McCoy on The Love Boat. I doubt she'd know anything about bilge pumps either.
Last but not least,
Mike
, this one's for you...