Last night, I took my buddy
Lovey
out for a night on the town to celebrate her 30th birthday.
Hilarity ensued.
I don't think we stopped giggling from the moment our Jimmy Choos hit her monogrammed doormat on the way out of her house. (And she calls
me
Martha Stewart!)
Since I am an abstainer of spirits, the task of transporting knackered birthday girls (and other assorted revellers) inevitably falls on me. I am the quintessential designated driver--not only am I never tempted to partake of the devil's brew, I'm naturally goofy (read "drunkish"), but without any of those pesky vehicular homicidal tendencies. Hence, I drove.
First we hit Powell's Bookstore to kill some time while waiting for our table at P.F. Chang's. And if you're not familiar with this particular Powell's, let me tell you, it's not somewhere you want to go just to kill time. It is "the largest used and new bookstore in the world...occupying an entire city block."
So you know it's trouble.
Bibliophiles such as ourselves cannot resist the allure of 68,000 square feet of row upon row of booky goodness. It is best to devote hours to a visit to Powell's. Alas, we only had 45 minutes, so we made the most of it.
I found a couple of books to add to my growing TBR shelf. (That's "To Be Read" for all you literary noobs.) But the best find of all was the selection of fridge magnets.
That will be going next to my "A Clean House is a Sign of a Wasted Life" magnet that my mother-in-law loves
sooo
much.
*cough, wench, cough*
Oh, excuse me. Phlegm.
Anywho, we ate our dinner of Chengdu Spiced Lamb and Phillip's Better Lemon Chicken. Delicious, as always. And, of course, when the fortune cookies came, adding the words "in bed" to the prophetic wisdom within led to rounds of unbridled laughter.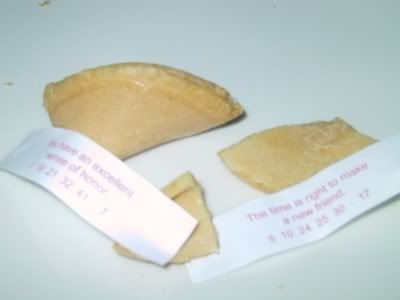 Apparently, Lovey has an excellent sense of honor in her bed, while the time appears right for me to make a new friend in mine.
Oh, those frisky Chinese!
One place where I was virtually guaranteed NOT to find a new bed warmer was the drag show where we capped off the night.
I'm sorry. "Showgirl emulator show."
This is Darcelle of
Darcelle XV Showplace
, a 77-year-old female impersonator who owns the place and performs in some of the numbers. (Including one where he shows his butt. It ain't pretty.)
Lovey and I were floored by how good some of these guys looked in dresses. (Dare I say a little jealous?) And doing all that dancing in platform stilettos? Hats off to you, girls!
By the end of the performance, Lovey had been felt up, and I got to stuff singles in Tina Turner's brassiere, and had my boobs serenaded.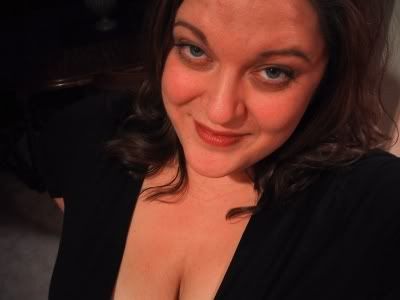 I mean, come on. How could they not be?
After the "girls" were done with their show, a cowboy by the name of Johnny Steel took the stage in a get-up kinda like this and set to strippin'. Which wouldn't have been a terrible thing, except that he bore more than a slight resemblance to a former friend's loser fiance.
We decided to call it a night.
So, no stories of sordid debauchery. Sorry to disappoint. But we had a great time.
Happy 30th, Lovey! Next time, limo!