Sixteen hours into the new year, and
Shmesolutions
are dropping like flies.
Didn't I tell you it would be like shooting fish in a barrel?
The first one to fall:


No organizing. Embrace chaos.

Ah, Shmesolution. I hardly knew ya. So sad to see you go.
Observe.
BEFORE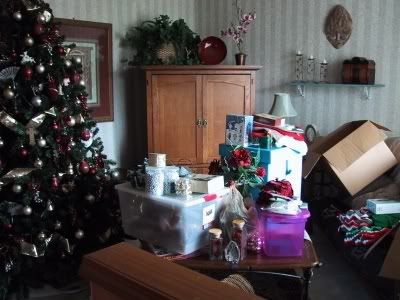 AFTER

Yep. I have finally de-Christmafied our house.
Buh-bye, leg lamp. The soft glow of electric sex in my front window has been appreciated, but it is time for you to languish in your attic home for the next eleven months.
Feels so good. Not just to take it all down, but to get it sorted, too. Before I started, we had five boxes crammed full of useless Christmas junk. Can anyone tell me why we needed ten mismatched stockings? Or a broken candle snuffer? Or a million little fuses for light strands we replaced last year?
Yeah, me neither.
So, out it goes. All of it.
One thing I do think I'll hold onto is this hubby of mine. Well, now that he's making himself useful for things outside the bedroom anyhow.
*wink, wink, nudge, nudge*
In the nearly nine years we've been together, Ron has cooked dinner for me a total of two times. The first time was on our third date--fresh salmon that he caught that morning! And it was really good.
The second time? Macaroni and cheese. When I was eight months pregnant. And just came home from working a twelve hour shift.
That's it. Those are the only times he has EVER cooked for me.
So, imagine my surprise when I went to make lunch for the family and I saw this...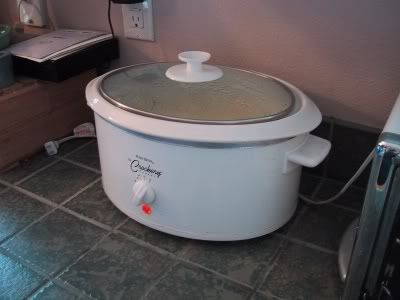 That's my slow cooker. In use. And not by me.
Wha wha whaaaat?!!
I didn't even think my husband could figure out the confusing controls. Off, low, high. So much to take in!
But he did it! I'm so proud.
2008 is starting off great here. How's it going for you?