The battle between the Choconots and Frenemies has ended.
We all
gave peas a chance
.
(Mine were smothered in melted chocolate. Mmmm...)
But January is behind us, and today is the start of something new. Something both the Choconots and the Frenemies can support and get involved in.
February is the month of the Fit Friends!
I'm a fit friend...

Are you?
(Didn't
Cami
do an awesome job on the badges?)
Yes, but what is this Fit Friends thing of which you speak?
It's simple, really. To be a Fit Friend, all you have to do is pledge to work out 3 times a week in the month of February.
What could be easier than that?
(Well, not working out 3 times a week would be easier, I suppose.)
But who wants easy?
(Well, everyone, I guess.)
You know, I'm really not good at selling these things. Lucky for me, Cami's got it all laid out for you
here
.
The timing of the challenge is quite apropos. February is the
American Heart Association's
Women's Heart Health Month. And in honor of that, I'm going to share with you something that I don't often like to talk about.
My health.
A little over a year ago, I was diagnosed with an endocrine disorder known as PCOS (Polycystic Ovarian Syndrome). This did not come as a shock to me. I have been dealing with the effects of this disorder since the onset of puberty in my early teens. But it's not until recently that the condition has been given a name, or extensively researched.
What PCOS basically means is that my body is resistant to the insulin it produces, so it produces more. And more. And then a little bit more until I'm swimming in insulin. The excess insulin triggers an increase in the production of androgen hormones (testosterone, androstenedione, etc., etc.), which cause cysts to form in my ovaries, wreaking further havoc on my body chemistry.
The effects can be devastating. Studies on PCOS have shown:
By age 30,

50%

of women with the disorder have either impaired glucose tolerance, significant insulin resistance, or full-blown diabetes.


Women with PCOS have an

eleven

-fold increased risk of cardiovascular disease that can appear as early as the 20s or 30s.


Women from 39 to 49 years old with the condition have a heart attack risk that is

four

times that of women without PCOS in this age group.


Women with PCOS also have a higher risk of uterine cancer that occurs at younger ages than seen in women without PCOS.
Those studies alone don't tell quite the whole story of what PCOS does to a woman's body. In addition to painful menstrual cycles and infertility issues, there's an emotional component to the disorder as well, not just from the hormonal imbalance it can cause, but from the way it alters a woman's appearance--skin tags, dark patches, facial hair, acne, oily skin.
But the worst symptom of all is the vicious cycle of weight gain.
Because women with this disorder are often insulin resistant, we are in a constant state of hunger. According to
"The Savvy Woman's Guide to PCOS"
(which I have found extremely helpful): "High levels of insulin stimulate the ovaries to make more of the androgens, and also make you store more fat, instead of burning fat for fuel. Insulin resistance makes you get fatter and fatter, even if you are eating less and exercising more. The fatter you get, the more insulin resistant you become."
After reading that, you might think I'd be tempted to take a knife to my wrists.
In some ways, you'd be right. I
do
feel constantly judged for the way I look. In the past, it was much easier for me to hide away from society and let PCOS take its toll on me.
Then this happened.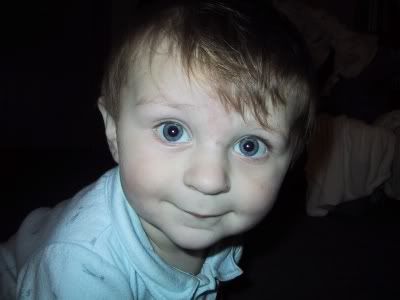 A cute baby with a perpetual Donald Trump comb-over.
And I decided
PCOS will not be my death sentence. It will be my call to arms.
The year I was diagnosed, Ethan and I logged 1000 miles on my bike.
This year, I'm going to double that.
Just see if I don't.
***
If you think you may be suffering from PCOS, check out
this site
for more information. And talk to your doctor.
THERE ARE TREATMENTS AVAILABLE!
(Wow, I sound like a Valtrex commercial.)
But do it anyway.
You can thank me later.