My husband is cheating on me.
Oh, maybe not in the whole secret rendezvous with another person for carnal purposes sort of way, but the fact remains--he has lust in his heart, and it ain't for me.
The object of his desire?
This man.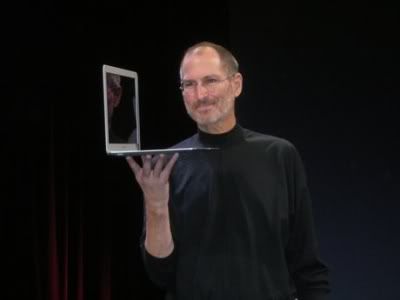 Steve Jobs. CEO of Apple. Maker of all things Mac.
Can't say that I blame him. Look at those smoldering eyes. Those chiseled features. That impeccable sense of...um...balance?
What woman can compete with a man of his many talents?
Not this one, apparently.
There I was, cuddled up next to my lout of a husband, wearing something that displayed the girls to the best of their advantage, and doing my darnedest to provide ample distraction to his Celebrity Apprentice viewing (it was TiVoed after all), and succeeding quite nicely, when what should appear on the television but the commercial for the MacBook Air.
I was literally cast aside.
For a laptop.
"It's so thin," he sighed.
Thin?
That's all you care about? Not the fact that it's way overpriced and can't even play CDs or DVDs without an external drive?
It's the Paris Hilton of notebook computers!
Thirty seconds go by. He is riveted to the action on the screen, from the moment it slides seductively out of it's confining manila envelope until the understated Apple logo appears above it, tempting him with its siren song.
He's mesmerized.
I feel like chopped liver. Mixed with poo.
It's not the first time he's wandered, after all. He has an iMac. We have three iPods. And he's aching to get his hands on an iPod Touch.
I'm downright jealous OF A GADGET!
Sure, we've been together a long time, and the newness has since worn off. We're like a comfortable old pair of shoes now. (If one of those shoes is a no-good philanderer.)
But I ain't exactly ready for a dirt nap here. I've got a few good years left. And it's not like I don't have a couple little somethings a man might find enticing, if you know what I mean.
(Normally I'd insert a picture of my boobs here, but I figure you're probably tired of seeing them by now.)
So, what is it that makes a man yearn for the latest and greatest toy, even at the risk of turning his wife into a frigid ice queen?
Any guys out there care to enlighten me about this obsession?