One thing you should know about me--I'm a horrible person.
If you've given me an award, I have been remiss in expressing my gratitude.
So, thank you. Every single one of you who have awarded me my beautiful bloggy bling. I love them all. I really do!
I know that doesn't make up for my appalling lack of manners and my egregious oversight in the linky love department.
I suck. I'm sorry. I don't deserve your kindness.
Would it make you feel better if I gave you an award in return?
(Don't be so quick to say yes. Need I remind you about the
first award I created
?)
Mmm hmm.
Not so sure now, are you?
Well, fear not. I have produced a series of awards sure to find favor in even the most discriminating among you.
I call this my "Nerd Collection 2008". May I present...
The "

Your Blog is Cooler Than This Guy's Blog

" award,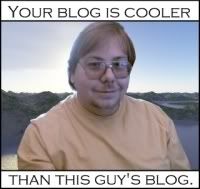 The

"You're Bringing Sexy Back"

award,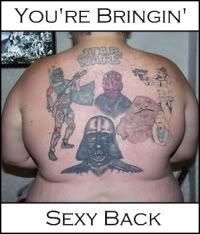 And the

"You Have a Lovely...uh...Personality"

award.
Each award was carefully handcrafted (on the computer), and lovingly detailed (I added the words), so that they may forever stand as a testament to how cool, sexy, or...uh...interesting you are to me.
I'd like to pass these on to everyone on my
finally
newly updated blogroll because you're all awesome in your own special ways. And to Dooz, who I would love to link to but can't because she's on the down low like that.
Now go ahead and pass 'em around.
Let's all share the nerd love.