Awhile back, I said that I was going to try to put up a video of
Avery and Lovey's JamFest 2008!
And, believe me, I had every intention of doing so. I still do.
The problem, I thought, was that I didn't have the software on my new computer. No biggie, I figured. I may not be fastidious about much, but saving software? I rock. I still have floppy disks that are
actually
floppy!
So, I was going to go through the stacks of software I have hoarded over the years and find it. Then I got sick, and the issue was relegated to a lower priority than, say, trying to breathe.
So, that's been over a week ago now. I'm able to breathe without much concentration yet again. And last night,
Mike
so generously reminded me of my aforementioned task with his comment on my
last post
:
"Movie schmovie, where's my Avery-plays-Guitar-Hero video?"
Well, Mike, just for you, I searched and searched through the piles of disks, only to discover that I no longer had the software.
Fair enough. Off I went to the Canon website and downloaded it from there.
Software--check!
I hooked up my USB cable, and...nothing.
Turned the camera off, turned it back on, pushed play, wiggled the cable, clicked a bunch of buttons, stood on my head, recited the Lord's Prayer--the message on the screen still said "No camera detected".
I tried adding hardware, to no avail. Tried kicking the computer, too, but that was really just more for my own sanity.
When my husband got home, I asked him about it. He said he thinks we need a different cable for a different port. He opened up another little door on the camera and showed me what he was talking about.
Great, I thought. I'll just grab the cable for that and try again.
Cable?
What cable?
There's no stinkin' cable in the carrying case where all the other cables for this bad boy were.
Fine, time to search the cable basket.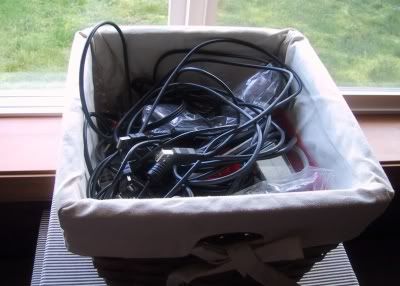 So, I did. I pulled out every cable. None of them were the one I needed.
Back to the Canon website to find the one I did need.
Fifty bucks! Not including shipping, and I'm still not 100% certain it's the right one.
Man, if only I knew someone more technically savvy than myself, Mike. You wouldn't happen to know someone like that, would you, Mike? Someone, Mike, who might know, Mike, if I'm going to be wasting a lot of money on something that's not even going to fix the problem, Mike Mike Mike?
Someone who once said "I will pay good money to see this video" perhaps?
(Yeah, put your foot in it there, didn't ya?)
Well, I'm not going to ask you to put your money where your mouth is. After all, you did quantify it by saying it was only worth dozens of cents to you. And anyone can tell you, I don't even get out of bed for less than a buck twenty-five.
And as much as I would love to tell you it's worth it to me to keep you all entertained by making an ass out of myself for your amusement, fifty bucks would go a long way toward getting a new DVD camcorder, which would allow even greater opportunities for embarrassing tomfoolery.
So, I'm at an impasse. Should I pay the money for the cable? Or should I save the money and buy a better camcorder in a few months?
I'm leaving it up to all of you to decide.
Choose wisely, grasshoppers.