And a Happy Saint Patty's Day to ya now!
I've started the celebration early. Got my Lucky Charms and a keg of O'Doul's.
(Did somebody say
par-tay
?!)
But, most importantly, I got my ultra cool St. Pat's attire from my ultra cool blogger buddy,
Yajeev's ultra cool super duper deluxe Megastore at cafepress.com
. Check out what's plastered across my boob's today.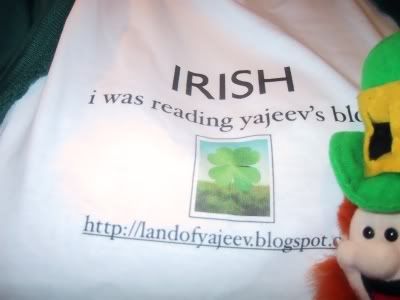 No, not the little Irish man. (That's
many
O'Doul's from now.)
It's Yajeev's high quality merchandise at ridiculously reasonable prices!
If you haven't read
this guy's blog
, you're not one of the cool people, and I refuse to associate with you. The man is hilarious!
Plus, he's clumsier than me, and he's not afraid to tell the world about it. He's got blog balls of steel!
Go. Now. I'll wait.
So, was I right or was I right, huh?
Yeah, I was right. You're welcome.
Anywho, other than hocking the wares of a superbly talented blogger, I've got a pretty full docket for the day. In addition to the Lucky Charms binging and O'Doul's imbibing, I'm going to whittle me up a perfectly good bar of Irish Spring soap with my stabbin' knife.
(
It's a soap...canoe!
)
Then I'm off to the local pub, where, after a rousing rendition of "Danny Boy" which will leave not a dry eye in the house, I'll throw away all the potatoes and everyone will starve.
Sounds like good times to me.
What's on your agenda?