Oh, did I not mention I'd be going on
another
blog hiatus?
Man, I gotta stop doing that.
Unfortunately, I can't guarantee it won't be like this for the foreseeable future. The sad truth is, my heart and my head just aren't in it. I'm struggling with some things healthwise, and it's affecting me more than I thought it was.
No, I'm not dying or anything. You can't get rid of me that easily.
But I certainly don't feel like I'm living either. I've been on autopilot for weeks now. I can't seem to care about anything beyond making it through the day without breaking down.
I know that sounds pathetically melodramatic, and it is, but, heck, this is my blog. And my pity parties are rollicking good fun.
(Virgin umbrella drinks! Yay!)
Mike
says I should blog all the gruesome details, but I don't think he knows what he was asking for. He's a guy. Sure, they can blow out a monster's brains on a video game, or watch the goriest movie without flinching, but interrupt it with a tampon commercial, and they're mowing each other down and crawling over the dead bodies to get to the nearest exit.
"Women's trouble" scares them senseless.
But that's not exactly what I'm dealing with. Hormones, yes. But even that's enough for my husband to get a glazed over look on his face. I guess in his eyes, the two are synonymous. Hormones falls under the category "Mysterious Things I'd Rather Not Know About My Wife's Body".
Wimp.
On the bright side, he doesn't complain at all when the only thing I accomplish in a day is meshing a lovely floral arrangement for my Sims.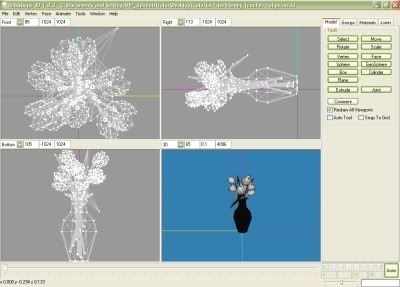 Yes, that's about the extent of what I can will myself to do some days. Sad, huh?
(Sadly awesome, that is!)
But some days are better than others, and it does seem that I'm having more and more of those good ones. I'm cautiously optimistic that that means I'm on the upswing, but I know better than to call the game now.
Hormones, like my mother, can be a fickle, fickle bitch.