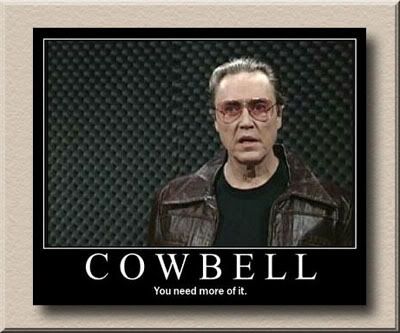 Or less cowbell.
Or it has just the right amount of cowbell, and I shouldn't change a thing.
Gah!
As if my inner critic weren't demanding enough, I've kicked my own ass by asking for outside opinion from the two critique groups I belong to on the first chapter of my most recent work.
Although everyone thus far has loved the story
overall
, they've had mixed opinions about the elements that make it up.
More internal dialogue.
Less internal dialogue.
Just the right amount of internal dialogue.
Oooo-kay...
Believe it or not, I view this as a positive thing. When I'm critiquing a story that really doesn't need much editing, I still feel compelled to point out any and every little thing I can possibly think to mention because I don't want the writer to feel cheated out of a proper review. If all I said was "Looks good," they'd think I didn't take it seriously.
I'm really hoping that's what's happening here, 'cause I've gone over that chapter so many times my eyes are crossing. And that is
not
a good look for me.
If you have a Critique Circle membership (and are not easily offended), you can find my chapter
here
. It will be in review until the 17th.
Just don't tell me it needs more cowbell. I find I'm plumb out.