We now have six. Six fake plastic guitars for three rockin' games on two different gaming systems.
My husband's in heaven.
First it was Guitar Hero III for the Wii. That proved to be merely an appetizer to the veritable smörgåsbord that is Rock Band for the Xbox 360. (And by smörgåsbord, I mean the addition of a poorly designed drum set and rarely used microphone.)
But, this past weekend, my husband was lured once again by Guitar Hero's siren song. Only, this time, the sirens took the spindly rendered forms of Stephen Tyler and Joe Perry.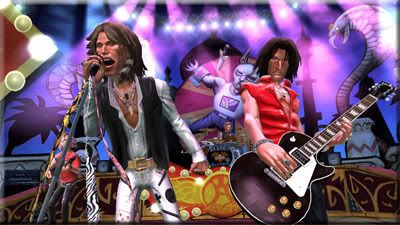 Tramps!
So, we now own Guitar Hero: Aerosmith for the Xbox, which necessitated the purchase of an additional Les Paul guitar controller for our typical epic rock battleage--bringing the count up to a whopping six.
Six fake guitars. Not a single real one.
How awesome are we?
Add to that the money we've recently sunk into transforming his office into a lush den of raucous rockitude, and you'll understand my dismay that my husband appears to have no desire to get past the Medium level on
any
of the games. Yet he is looking forward with great anticipation for the releases of Guitar Hero: World Tour and Rock Band 2 this fall.
Great. More fake instruments we don't play.
Is this just a guy thing? A mid-life crisis?
Maybe I should just get him a motorcycle and a hooker. They'd probably take up less room.